Pet Sematary (2019)
Kat Eschner's newsletter about animal-human relationships Vol. 3 Iss. 2
This issue of CREATURE FEATURE is brought to you by the fighting cows of Valais, Switzerland. I found out about them during a day trip to Europe's largest gravity dam, Grande Dixence. It's a little over two hours from Lausanne, where I and the other World Conference of Science Journalists 2019 attendees were based.
On the way up the windy mountain roads we passed a field of cows, just hanging around, and I think I might have snapped a photo out the window but I thought no more of it. On the way back down, though, I pointed out the cows to my Swiss colleague and she said, "those are fighting cows."
"Excuse me?"
"Fighting cows."
Long story short, this breed of Swiss cows fight to establish hierarchy, and the people of Valais canton made it an official thing. Long live the cow queen.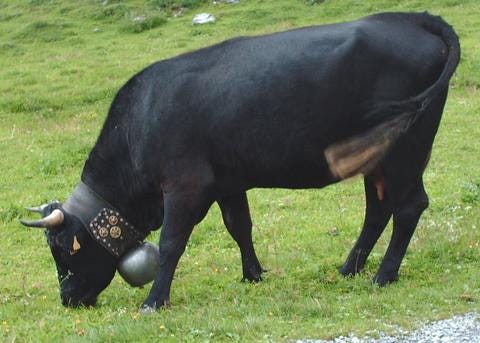 Image description: An Herens cow grazes, wearing a large collar with a bell (Credit: Wikimedia Commons)
---
The nematodes are dead…long live the nematodes?
Worms, mosses, bacteria: as the ice caps melt, researchers are finding organisms capable of surviving hundreds and even thousands of years as Popsicles, Daniel Ackerman writes for The Washington Post. The oldest nematode (it's a worm but a complex organism for all that) that's been revived so far is estimated to be 41,000 years old, according to Russian scientists.
However! Ice Age ecologist Jacquelyn Gill expressed strong doubts about the nematode results specifically. If you're interested in the WaPo story, I'd read her Twitter thread as well.
Eep: Arctic permafrost is melting much, much, much faster than anticipated, a new study suggests.
A rabid cat invaded a Disney property, watch out
Authorities are cautioning people in the area surrounding Disney's Epcot park in Florida after a feral cat tested positive for rabies, reports Kashmira Gander for Newsweek.
A spokesperson for the Florida Department of Health in Orange County told Newsweek two Disney cast members were scratched by a lab-confirmed rabid cat. The individuals sought medical treatment and did not contract rabies.
The first horse death of this year's Calgary Stampede
A fourteen-year-old gelding named Dylan died on Monday as the result of an unspecified 'serious medical condition,' reports CBC News. His owner and driver, Troy Dorchester, is understandably devestated.
The Stampede, a Calgary and Canadian tradition, claims on average two horse lives per year. The most dangerous event is chuckwagon racing, which Dylan was doing when he collapsed. Although it's not clear whether Dylan's condition was related to the race, the chuckwagon event regularly claims horse lives.
Extra credit: The Stampede is one of the world's largest rodeos. Here's a basic primer on its history. The rest of the year, Calgary is best known for oil money.
---
"Horrified, Janet watched a blue-black killer whale emerging from the low grey clouds, followed by another whale, and another and another. They hung huge in the sky like black zeppelins, and the air seemed to grow claustrophobically dense with their displacement of it."

-- "Fish," Michel Faber, The Barcelona Review
---
Bonus round
More things I read this week.
---
Please read me
My most recent work.